Welcome friend. Not got a MOTD account yet? You can create an account by clicking here.
Want to join this drive? Sign up will open on 10th of February 2017. You must be registered and signed in to do so. Simply fill out any options that are required in the 'Sign Up' form and click the button. Your User/Screen name will be added to the list right away. If you want to remove your name from a drive then you can do this through your account page.
Details
Your Host(s): MINI of Knoxville
| Day | Start Time | Finish Time | Cost | Meeting Place | People Limit | MINIs Limit |
| --- | --- | --- | --- | --- | --- | --- |
| Friday | 7:30pm | 10:30pm | FREE | Baseball Field at Fontana Village | none | none |
Join us and MINI of Knoxville as we bring back the Dragon Drive in Movie. Park you MINI on the ballfield or bring your lawn chairs. Funflicks will be bringing a 45' inflatable screen with speakers and fm transmittal. This years feature movie TBD
Your Schedule (give or take a little)
| Start | Finish | Activity |
| --- | --- | --- |
| 7:30pm | 8:30pm | Park your cars on the Ballfield |
| 8:30pm | 10:30pm | Enjoy our feature Presentation |
Sign Up Here
You will need to be signed in to your MOTD account to sign up for this Day Drive. If you don't have an account yet then you can create one by
clicking here
. If you do have an account but are not logged in then
click here
.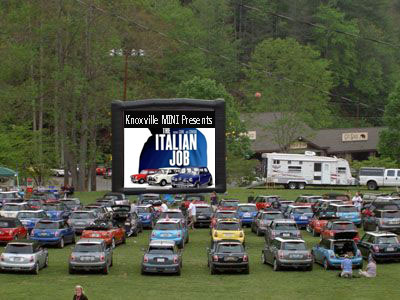 Who Is Going?
There are currently 108 people signed up with 66 MINIs attending.
#9Dream
03BRG
2PIR8TS
2PIR8TS Kel
ACTUALSZ
AGranger
Aileen Kirby
AL-Mini
AL-Mini2
alexk3
Azflower
bdavenport
BEAST7
bprosise
Buddy2013
Bugnut
Cathie
chiefly1
CHILLIN
chloefpuff
cviglione
Cyebrogre
Diane
DianneSimpson
Dman
ECHO-313
edodson
eleib
eric8648
euells
F1R3FLY
F1R3FLY +1
Fun Size
Fun Size +1
Gert2013
Ghost Pee1
Ghost Pee2
ghostmother
Gina
GingerSnap
GreenIguana
Jake31
JAOG
jcthiem
JDodson
Jduke
JimSimpson
Kaput360
Kathykdan
Kimm1e
kmlander
kurvedancer
kylepingel
Lady Swamp Dragon
ladybug
LadyGray
Lakevn
Leaky
Lil Tyne
LManthorne
Lullabye
Madvibe
Mark
mbc2
Megs
MilesMom
Mini15
MINIBee
MiniCooper
MINION
Mrs GreenIguana
MWGDVC
Obsessive
Outlawmedic
Papajon
Patrick Kirby
Pharmtech2013
pleib
puffybobs
puffybobs2
rbpruitt
Reward43
RobertSpradlin
Rxdn
SaraJones
Scrapper1068
Sean Cooper Works
Shiny Side Up
shortred
shotgun
Sir Tyne
skyridetravis
sleib
Swamp Dragon
Tabasko
Tabaskos better half
tdlander
TehMomz
Tigger
TJINAL
tpruitt
Vicki Lee
wawesson
WhovianMiniac
WLFLikeMe
woodstoc1
wyretrip
zenerdog